Control quality & ISO 9001 certification
for aluminum caps manufacture
Since 2015, our company has been ISO 9001 certified, thus being involved in an organization, traceability and continuous improvement process.
Our principal purpose : satisfaction and conformity of our products. To do it, we choose to invest :
A metrology room : we have a metrology room for our quality control service : contour measuring instrument, 3D dimensional machine,  torque-meter, measuring column, binocular, profile projector… We can control all raw material, technical mechanic pieces (High precision), and we can do TESTS.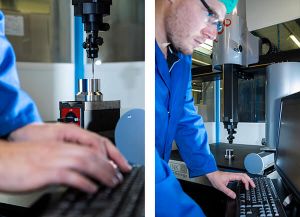 Daily quality control : we attach great importance to the conformity of our products, it's why we control & save daily. Our Control quality service check once per day at least reinforces this verification.
Our certificate ISO 9001 is available on demand. Contact us.